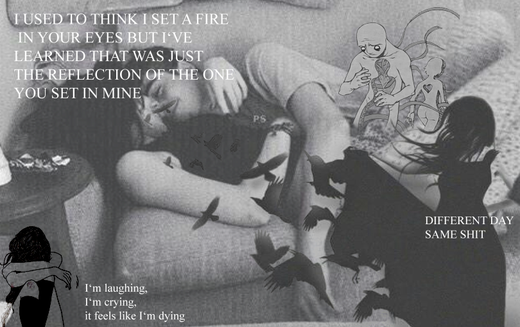 You just can't come in someones life, make them feel special, and then leave. 

Und jetzt haben wir die Scheiße. Ich denke nur noch an dich. Und du denkst nur noch an Sie. Und Sie? Denkt sie auch an dich? So wie ich an dich?
Mein Magen brennt. Wie, nach dem ersten Schluck Jägermeister. 
Und ich kämpfe immer noch gegen diese Gefühle an. Dabei scheinen sie mich doch schon längst zu überwältigen.
This is a breakdown. 

Einerseits will ich dich meiden. Kann dich, dein hübsches Gesicht und deine Art längst nicht mehr ertragen. Aber irgendetwas in mir, will nur zu dir.
I wish that you were here, so then we could gaze at the moon and and the stars. Cause when I'm in your arms, I've never been better. 
You are so unforgettable. I'm confused. I don't want you to be with her. I wanna hear your voice, saying that everything will be all right. I want your arms around me, and I want your lips on mine. My mind is a mess. I never wanna sleep again.
---